The Greater Addo Elephant Natioanal Park is a malaria free park in the Cape Area of South Africa within a short drive of Port Elizabeth, and with easy access to the Garden Route. It is the result of a vision to expand the Addo Elephant Park into South Africa's third largest wildlife park (after Kruger and the Kalagadi transfrontier park). This proposal originated in 1997 from the Terrestrial Ecology Research Unit at the University of Port Elizabeth, and has been exectued with assistance form the Global Environmental Facility (GEF).

As of December 2004 the park had expanded to over 148 000 hectares aiming towards a goal of 240,000 hectares with an additional 120,000 hectares for a marine protected area.

The expanded park is rich in biodiversity, conserving five of South Africa's seven biomes - namely subtropical thicket, fynbos, grassland, forest and Nama karoo. It is also the world's first Big Seven reserve, home to the traditional Big Five plus the Southern Right whale and Great White shark.

This marine protected area, including the Bird and St. Croix island groups, is an important breeding habitat for gannets and penguins, not to mention a large variety of other marine life. Bird Island is home the world's largest breeding colony of gannets and the second largest breeding colony of African penguins.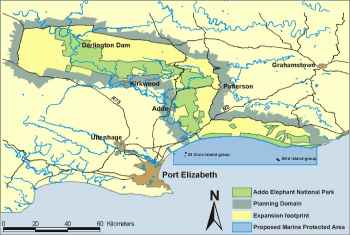 Mammals in residence include: African Wildcat; Caracal; Lion; Leopard; Aardvark; Warthog; Hippopotamus; Common duiker; Cape grysbok; Steenbok; Klipspringer; Springbok; Mountain reedbuck; Grey rhebok; Gemsbok; Red hartebeest; Bushbuck; Greater kudu; Eland; Buffalo; Black Rhinoceros; Burchell's zebra; Mountain zebra; Elephant.