Rattray's on MalaMala represents a classical "into Africa" safari experience in keeping with MalaMala's history of presenting an authentic view of wildlife in Africa to the discerning traveler, continuing the MalaMala focus on game viewing.

The elegant main building incorporates a viewing deck, an air-conditioned library, an attractive bar showcasing the history of the area and an adjoining wine cellar stocked with a wide range of South Africa's best wines.

Breakfast and lunch are served in the air-conditioned dining room or on the adjoining deck whilst the traditional reed boma under a magnificent jackalberry tree is the ultimate outdoor evening venue.
The Rattray's camp experience is exclusive, with each of the eight comfortable suites occupying its own elevated site overlooking the Sand River. Each suite enjoys a private plunge pool secluded verandah and an outdoor dining area providing the ideal vantage point from which to enjoy bush cuisine in complete privacy.
Amenities include:
Separate "his" and "hers" bathrooms per bedroom with hair dryers, bath robes and heated towel rails and toiletries.
Insect proof screening on all windows.
Mini bar in each bedroom.
Mini safe in each bedroom.
Golf carts for those who don't wish to walk to their rooms
Daily New York Times Fax.
Maximum of four guests per game viewing vehicle.
No fee satellite interconnection, and direct dial telephone service, fax and e-mail facilities available.
Filtered swimming pool.
24 - hour electricity air-conditioning and heating.
Gymnasium and massage room
Safari Boutique.
Wine Cellar.
Tea and coffee making facilities in each bedroom.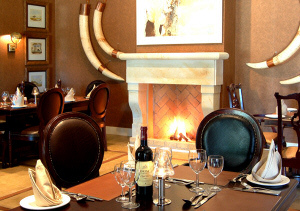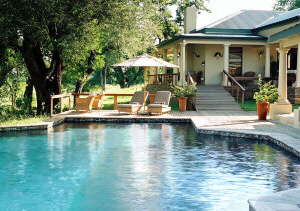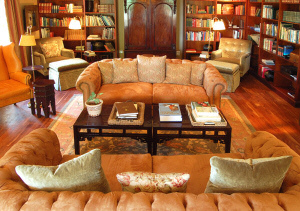 Cape to Cairo, LLC  African Business and Adventure Travel 2761 Unicorn Ln. NW    Washington, DC 20015 tel 800.356.4433 202.244.5954 res@capecairo.com