Kwara Camp
This friendly and intimate camp consists of eight luxury safari-style tents built on raised decks, within a grove of huge and ancient African Ebony trees. Each tent has its own viewing platform, and the tents and lounge area overlook a permanent lagoon in front of the camp which is a riot of wildlife, day and night, with hippo, crocodile, red lechwe, impala, and elephant seen almost continuously, as well as a stunning variety of birdlife.
The camp fronts onto a huge floodplain, adjacent to the permanent water of the Delta and is backed by extensive bush. It is a magnificent wilderness area bordering the Moremi Reserve. Kwara encompasses a wide diversity of habitats, ranging from the clear Delta waters with reed-lined lagoons and channels, to open grasslands, mopane woodlands and palm-fringed islands.
The Kwara concession contains 175 000 ha (or 1750 square kilometers) almost half a million acres! The ability to operate off road and at night is critical in order to see the up to 30% of interesting mammal species that are mainly active at night. These include leopard, lion, wild dog, hyena and smaller predators.
The forested island on which the camp sits is typical of those encountered throughout the vast 1.6 million hectares of the Okavango Delta. At Kwara, you will discover why the Okavango is considered one of the ecological wonders of Africa and indeed the world. It is mysterious, calming, unpredictable and very wild.
Kwara also boast a honeymoon suite with its own special bathroom with an antique slipper bath with the traditional ball and claw feet. Hire a private vehicle and have the wilderness almost to your selves – enhanced by your own guide and tracker who will cater to your interests unobtrusively. The memory will live forever.
While the year-round wildlife experience is diverse, the focus is definitely on the water. Whether gliding along in the special silence of a mekoro dug out canoe through crystal-clear waters or visiting the famous Godikwe lagoon, where you can stand on a boat literally eye to eye with thousands of herons, storks and other nesting birds.
Other species you can encounter through the channels and rivers are kingfishers, pygmy geese, fish eagles, jacanas, darters and if you're really fortunate, the elusive Pels Fishing Owl.
Along with the bird watching, Kwara offers fishing (both spinner and fly), walks with a guide on one of the many palm-fringed islands and also spectacular night drives on top of our morning and afternoon drives. The beauty and charm of Kwara will captivate you.
The Kwara area is also home to a variety of wild animals including, lechwe, sitatunga, reedbuck, bushbuck, hippo, crocodiles, elephant, buffalo, sable, roan, zebra, giraffe, wildebeest, impala and tsessebe. Lion, hyena, wild dog, leopard and cheetah are abundant in this part of the Delta and regularly seen.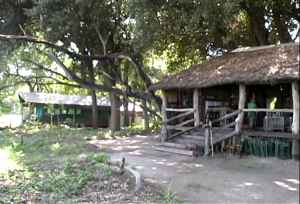 Lounge at Kwara Camp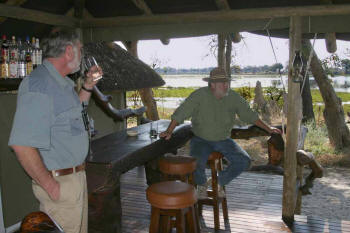 Bar with a view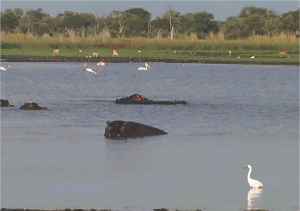 Kwara waterhole teems with hippo, red lechwe, and bird-life
Lebala Camp
Kwando Concession
Lebala means wide open spaces in Setswana and the scenery is dominated by vast plains with scattered palms and tree clumps backed by wooded savannahs.
This wild expanse is contrasted with the casual elegance and luxury of the camp itself. Lebala Camp is situated 30 kilometers to the south of Lagoon Camp and fronts onto the Linyanti Wetlands.
Open grasslands scattered with Illala Palms stretch to the south and west of Lebala. The perennial and southerly flowing Kwando river disappears into the vast marshes before emerging as the Linyanti river, flowing in a north easterly direction. The triangle formed in Namibia by this direction change is home to the Mamili National Park.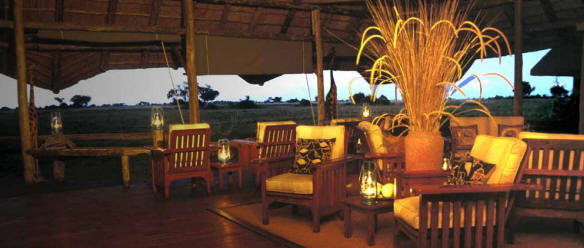 The eight spacious tents are unique and were designed by us specifically for this camp. Each one is built on a raised teak deck, laid out with maximum comfort and privacy in mind. The tents have an entrance foyer with a reading and writing area, en-suite bathrooms with Victorian clawfoot bathtubs, "his and hers" washbasins and flush toilets. The bathrooms lead out to a reed enclosed open-air shower with hot and cold running water, powered by LP gas for hot water on demand.
Each secluded tent has its own sundeck, and is set back among the trees. The endless vistas from the large windows and decks across the vast plains, make Lebala one of the finest wilderness camps in Africa.
The wetlands and flood plains around Lebala offer a wonderful variety of wildlife with excellent sightings of elephant, hippo, lechwe, zebra, giraffe, impala, wildebeest, kudu, tsessebe, roan, sable, buffalo and the ever present predators; wild dog, lion, cheetah and hyena.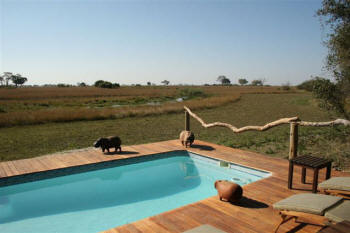 Lebala Camp Pool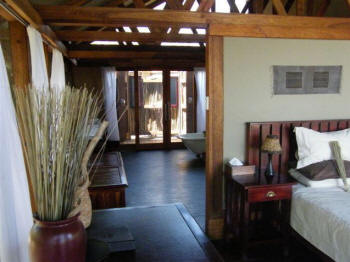 Lebala Double Sized Tents
Lagoon Camp lies on permanent water on the Kwando River set among African Ebony and Marula trees. Lagoon Camp accommodates only 12 guests in 6 twin bedded luxury safari-style tents. Each tent looks out over the water and has private en-suite facilities.

This area is home to huge herds of elephants and buffalo. There are few places in Africa where such concentrated numbers of these animals exist, especially in the dry season.

The shady, treed environment of the camp hosts a great variety of birds and squirrels that visit daily. A family of hippo and an elephant or three are regularly sighted from the tents. This contributes to the relaxed calm that prevails at Lagoon. The predators are also well represented by lion, hyena, leopard, cheetah and wild dog. These animals are generally very relaxed in the presence of vehicles, meaning the sightings are usually at close range.

Among the great variety of antelope species found at Lagoon, the endangered Sable and Roan are often seen. Seasonally, large herds of elephant drink almost daily at the river bank in front of the camp, in full view of the guests. The big herds attract big predators. The lions of Kwando are famous for their elephant, hippo and buffalo kills. Playful spotted necked otters are commonly seen performing in the Lagoon right in front of the tents.
Boat cruises along the Kwando River provide excellent opportunities for birding. We also offer specialist fly fishing and spinner fishing for Tiger fish and Bream. Some excellent catches have been made by Kwando guests.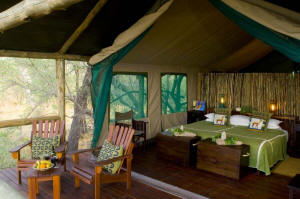 Lagoon Tent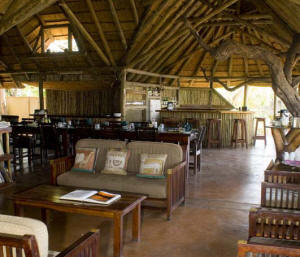 Lagoon Lounge
N'xai Pan Camp N'xai Pan National Park is a most special place, desert on the edge of the Okavango, inviting an annual migration with the fresh grass due to rains from December - April. This unique location is home to desert animals such as Springbok and Gemsbok (aka Oryx), eland, jackal, brown hyena and bat eared foxes. Animals that migrate from the Okavango include elephant, wildebeest, zebra, and giraffe which can be seen with up to 30 in a group. These large herds attract many predators – lion, cheetah, leopard, the endangered wild dog and upon occasion Rhino. Also to be seen are the eland, greater kudu and red hartebeest. Once the rains have started – the bird life is excellent.

Kwando has just opened this fabulous new luxury camp located in the tree line with 8 rooms with thatched roofs and insulation so it is cooler in the summer and warmer in the winter. The main area consists of a dining room, lounge area, viewing deck, swimming pool, library and curio shop.

| | |
| --- | --- |
| The Famed Baines Baobabs | Zebra migration |
| | |
| Springbok | Gemsbok |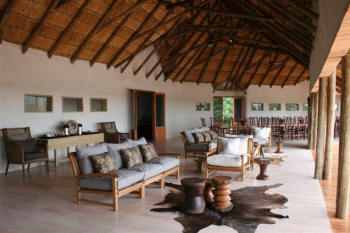 N'xai Pan Camp Lounge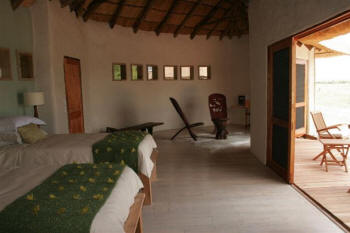 N'xai Pan Camp Bedroom
Tau Pan Camp is situated right on the edge of the beautiful Tau Pan inside the world famous Central Kalahari Game Reserve (CKGR) the largest game reserve in the world (52,800 sq km's). Although dry and rainless for 8 months of the year, the Kalahari is not a true desert, receiving an annual rainfall of 60mm-175mm between December and March. Vegetation consists mainly of grasses and acacia's, as well as stunted thorn and scrub bush with over 400 identified plant species present. About 1,100 meters above sea level – the largely unchanging flat terrain is occasionally interrupted with gentle valleys, sand dunes and a large number of pans, which vary in size and complexity. These pans are invaluable to the wildlife as they supply them with nutrients from the salts and the grasses of the pans.

After the summer rains the plains and pans burst with sweet grasses transforming the CKGR into one of the best game viewing areas in Botswana with animals such springbok, gemsbok and wildebeest in their thousands. Predators abound with Cheetah, Leopard Jackal and the Kalahari black maned lion. Brown Hyena and Wild Dog are also found in the area.
Antelopes include the Eland, Springbok, Steenbok, Gemsbok, Hartebeest, Kudu and Duiker. Honey Badgers are regular visitors. Bird life is aplenty with the world heaviest flying bird – the Kori Bustard being common as well as the Black Korhaan who continuously calls during the daytime and large flocks of Ostrich. Sand Grouse, from the Double Banded to the Namaqua, are a sight to see in the mornings, when they flock to the waterholes in their thousands, to drink and bathe in the water holes. Raptors from the most common Pale-chanting Goshawk to the Rock Kestrel, Bateleur and Brown and Tawny Eagle are also seen regularly.

The Camp is established on sand ridge overlooking the permanent Tau Pan water hole and the endless Kalahari horizon. Guests are accommodated in 8 custom-built desert rooms under thatch, while the main area consists of dining room, lounge area, iewing deck and swimming pool, library and curio shop. Because Tau Pan is in a national park and an ecological sensitive area we can not drive off road or at night.

| | |
| --- | --- |
| Eland | Wildebeest migraion |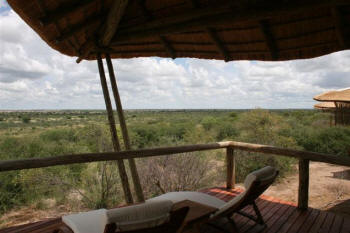 View of Tau Pan from Viewing Deck

Tau Pan Bedroom