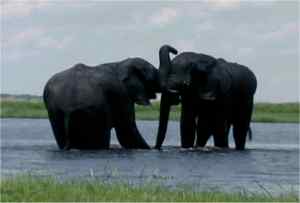 Elephant Tussle on the Chobe River
Makgadikgadi and N'xai Pans National Parks provide unique ecologies and Dec - April support the only Wildebeest migration in Southern Africa.
These parks support mixed desert wildlife and migratory wildlife. Gemsbok, springbok, Kalahari lion and bat eared foxes are seen. Bushman relics can be found in the pans which are a geological and archeological marvel.
Botswana is the safari venue in Africa, with a large fraction of the country devoted to national parks and concessions where wildlife is preserved. Botswana offers a high diversity and concentration of wildlife, along with unmatched exclusivity in accommodations.
Exclusivity is the hallmark of safaris in Botswana with its policy of low impact, high end tourism. The stringent limit on total visitors means that encounters with other people are rare.
Luxury camps are world renown including such premium camps as Mombo, Vumburu Plains, King's Pool, Jao, Chief's Camp and Chobe Chilwero.
Small and exclusive classic camps provide intimacy and close contact with the bush including Kwando Lagoon Camp and Kwetsani Camp.
The Okavango Delta, combined with the Kwando / Linyanti / Selinda region is justifiably famous as one of the world's best safari destinations. Wildlife is protected not only in the Moremi Wildlife Reserve but in an even more extensive system of private concessions that completely enclose the region.
Options for safaris include fly-in to small an exclusive luxury lodges in the private concessions and overland camping safaris, generally starting from Maun and going up through Moremi, Savute, Chobe to Kasane and then on to Victoria Falls.
Game include enormous herds of elephant, predators (lion, leopard and cheetah), antelope (sable, roan, kudu, waterbuck, impala), hippo, giraffe, zebra and wildebeest as well as a host of smaller fauna, fabulous birdlife and diverse flora.
Cape to Cairo, LLC  African Business and Adventure Travel 2761 Unicorn Ln. NW    Washington, DC 20015 tel 800.356.4433 202.244.5954 res@capetocairo.travel