Camp Moremi
Camp Moremi is located in the game rich Xaxanaka region of Moremi Wildlife Reserve with mopane woodland, acacia forests, floodplains and lagoons and has a vast variety of plant, bird and animal life. The camp is set beneath giant ebony trees, including a secluded swimming pool. The elevated viewing hide overlooks the Xakanaxa Lagoon, and accommodates 22 guests in East African-style safari tents raised on teak platforms with viewing decks.

Moremi is renowned for frequent sightings of lion, leopard & cheetah, as well as wild dog and hyena. Hippo and elephant are plentiful as are the full range of antelope, large and small. Boating on the Xakanaxa Lagoon and Okavango channels provides and excellent opportunity to view the prolific and varied birdlife.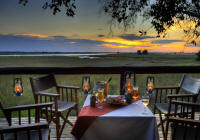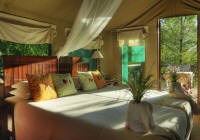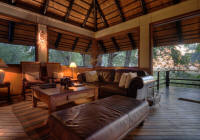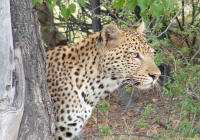 <! ~~~ Gameviewing ~~~ >
Chobe Game Lodge
The famously luxurious Chobe Game Lodge on the banks of the Chobe River offers un-surpassing views of the river and floodplains. Each of the 47 rooms is river facing and air conditioned with overhead fans. Facilities include a large swimming pool, an elevated riverside viewing deck, and a gym. A stylish cigar bar offers billiards and broadband internet access.

Chobe is home to a thriving elephant population as well as large herds of buffalo, lion, wild dog, puku, red lechwe, sable, giraffe and roan antelope.

Game drives are conducted in open sided 4X4 vehicles and in boats for the unique and magnificent views of elephant playing in the river as well as large pods of hippo and crocodile. Birdlife is prolific.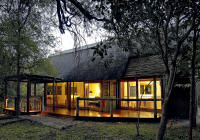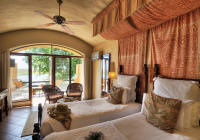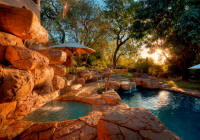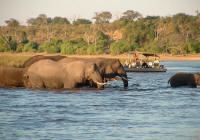 <! ~~~ Kuyenda Camp ~~~ >
Leroo Le Tau - Makgadikgadi Pans National Park
Leroo La Tau located on the eastern boundary of the Makgadikgadi National Park accommodates 24 guests. The luxurious en-suite chalets stand on raised wooden platforms overlooking the dry Boteti riverbed. The main lodge overlooks a water hole where game concentrates in the dry season.

From mid-November rains transform the `thirstlands` of Makgadikgadi. The barren salt pans fill with water attracting a spectacular array of water birds and trigger dramatic migrations of wildebeest and zebra. Leroo La Tau also boasts bushbuck, leopard, brown and spotted hyena, impala, kudu, jackal, porcupine, genet and caracal, to name but a few. In addition, there is also the possibility of seeing the rare white rhinoceros. Most unique crocodiles and an amazing pod of hippo which have survived in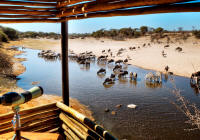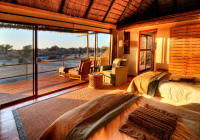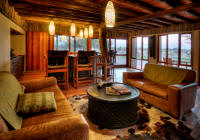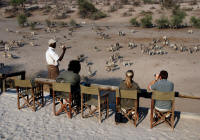 <! ~~~ Chamilandu Camp ~~~ >
Savute Camp
Built on the site of the famed Lloyd's camp, Savute Safari Lodge accommodates 24 guests in thatched timber and glass suites, each with its own private decks. Overlooking the channel, Savute boasts a viewing deck for watching game at the water hole, a pool and an al fresco dining area.
Game drives include visits to the rock paintings at Gubatsa Hills. Major species include giraffe, elephant, zebra, impala, tsessebe, roan, sable, wildebeest, kudu, buffalo, waterbuck, warthog, eland, as well as predators including lion, hyena, jackal, cheetah and possibly wild dog. The second biggest summer zebra migration in Africa can be seen at Savute from the rains in November / December through to March / April. The rains also bring a wonderful variety of waterfowl and lions and hyenas enjoy a feeding frenzy as thousands of migrating zebra on their journey to the Makgadikgadi pans.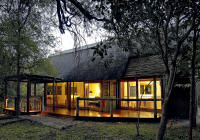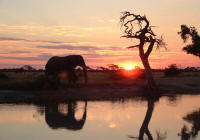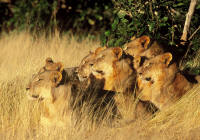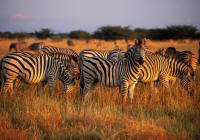 <! ~~~ Xugana Island Lodge ~~~ >
Xugana Island Lodge
The Xugana Lagoon is perhaps the most spectacular permanent water site in the Okavango Delta. The boma and al fresco dining area overlook an expanse of permanent water. The lounge, bar and dining areas are set back under the Ebony and African Mangosteen tree canopy in open sided thatched structures. The swimming pool, located within the mature gardens in the center of the island, is a perfect place to relax.
The lodge accommodates 16 guests in lagoon facing chalets, with en-suite facilities and private viewing decks situated on the shaded fringe of the island.
Explore the Delta by motorboat or canoe (mokoro), or walk on surrounding islands in the concession. Bird-watching is outstanding, and fishing for bream and tiger fish is also offered.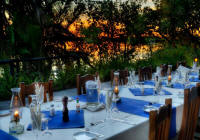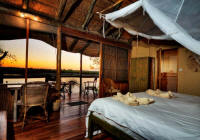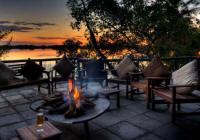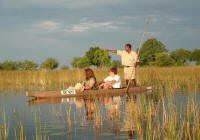 <! ~~~End list of descriptions~~~ >
<! ~~~End ~~~ >
Cape to Cairo, LLC  African Business and Adventure Travel 2761 Unicorn Ln. NW    Washington, DC 20015 tel 800.356.4433 202.244.5954 res@capetocairo.travel