7 Night Flying Safari
US $3,995 per person in twin room.
Luxury private luxury tented camp in Samburu and Mara.
Includes all scheduled flights
Quality guiding, personal groups limited to ten, four wheel drive vehicles, options to walk
Day 1: Nairobi to Samburu
You will be transferred from your Nairobi hotel to catch the schedule flight from Wilson airport to Samburu.
The flight to Samburu takes you north over Thika, the coffee and horticultural growing area which made famous by Elspeth Huxley's "Flame trees of Thika". Then we fly over the Tana river to the slopes of Mt. Kenya usually giving a great view of the peaks to the right of the aircraft. After leaving the fertile slopes of Timau behind us we drop down to the arid country of Samburu landing from the south.
We meander our way from the airstrip back to our camp. Usually we will reach the camp late morning for a late (second) breakfast or brunch depending on what game we find on our way back from the airstrip. You will be welcomed by our camp crew on your arrival, and shown to your tents. Your guide will give you a brief introduction to the camp and explain layout of the tents and introduce you to your personal tent steward.
You will have a couple of hours to unpack, shower, and relax before the evening game drive. Sometimes, if we have had breakfast early we may also have a light buffet "lunch" mid afternoon before embarking on the evening game drive.
We arrive in camp after the game drive at dusk, and your steward will get you a shower, and a drink in your tent if you wish before we meet together around the campfire. After pre-dinner drinks listening to the sounds of the African nights and discussing the days adventures we move to the mess tent for dinner around 8 - 8.30. Some people prefer to take an early night after dinner and return to their tents to read while others prefer to enjoy some after dinner liqueurs around the campfire.

Days 2 and 3: Samburu, Buffalo Springs and Shaba Reserves.
We have three days in the Samburu area giving us ample opportunity to explore these three neighbouring reserves, each with its own characteristics. All have the Ewaso N'giro as one boundary, with Mt. Ololokwe (see top photo) to the North, and Mount Kenya 80km to the South.
Samburu also has a several rugged and picturesque ridges surrounded by typical African open acacia savannah, with several luggas (dry river beds) leading into the Ewaso. This open country is the perfect habitat for herds of elephant, Beisa oryx, Reticulated giraffe, Grevy's Zebra (below), gerenuk, and Grant's Gazelle. Along the river itself there is a band of thick bush dominated by the "toothbrush" tree and magnificent River and Tortilus acacias, in which kudu, cape buffalo, and herds of impala may be found.

Buffalo Springs reserve has two smaller rivers, the Ngare Mara and the Isiolo, running into the Ewaso providing several varied habitats supporting flat topped acacias and open grassland, with Doum palms along the rives. There is a plain that becomes waterlogged in wet weather which is covered in "salt bush". This area is largely inaccessible in the rains except to four wheel drive vehicles such as ours. Away from the river there are limestone plains of short grass, and ridges formed from ancient lava flows from which there are magnificent views over the whole area. "Champagne ridge" to the east of Buffalo Springs has a band of the most magnificent Acacia Tortilus trees supported by the underground river than surfaces at "Buffalo Springs" where we often stop for a picnic and sometimes for a cooling dip in the swimming pool of natural spring water.
Shaba Reserve is more rugged than the other two reserves, and the game is more widely dispersed. There are some very scenic walks along "the gorge" (see photo below). Vistas out over the plains to the Shaba hill and Bodich to the North give a feeling of space and serenity well away from the normal tourist routes. It is easy to imagine our human ancestors in these harsh but beautiful surroundings, which is perhaps why the "Survivor" series chose this location for "Survivor Africa".

During the three days that we have in these parks you will get to see all of the animal species that are endemic to the region, with a good chance of seeing leopard, lion and cheetah as a bonus. The area is also very rich in bird life with many interesting and colourful species characteristic of the northern dry country which congregate along the rivers.
We will also give you a chance to get out on foot to see experience at first hand the thrill of walking in the African bush. This gives a much better perspective of the "little" things which often go unnoticed from a vehicle, but are equally fascinating. An understanding of the inter-relationship of geology, topography, flora and fauna is important in gaining a real understanding of African ecosystems. Much of this knowledge can only be gained by examining the rocks, insects, and reptiles while on foot.
The Samburu area is also the home of the nomadic Samburu tribe, closely related to the Maasai. This proud race maintains much of their original culture including their vivid scarlet shukka robes, metal amulets and elaborate beaded necklaces and headgear over ochre daubed and braided hair often topped with some feathers. Both men and women proudly wear their traditional gear for everyday use. We often take a walk to see a village, and can arrange a show of traditional dancing in our camp one evening for those who are interested. The warriors and their young girlfriends enjoy that as much as we do, and are very happy to sell some traditional Samburu artifacts such as beadwork and spears.

Days 4 Flight to Maasai Mara.
After three unforgettable days in Samburu country we fly over the Rift Valley, with its famous flamingo lined soda lakes often clearly visible, straight to the heart of Kenya's foremost wildlife area the Maasai Mara. This hour long flight is the perfect answer to those who wish to see the best that Kenya has to offer but can only spare a very limited time.
We arrive mid morning in at Musiara airstrip near the Musiara marsh which is the subject of Jonathan Scott's classic book "The Marsh Lions". From the airstrip we head due East over the rolling grassy plains of the Mara to our camp which is on the Ntiekntiek River. This seasonal river, together with the Olare Orok, drains the upper Aitong plains cutting in picturesque gorges through old lava flow ridges to join the Talek River which flows into the Mara River. Our camp is on the Koyaki group ranch owned by the traditional inhabitants of the area, the Maasai people. All our viewing and camping fees go to these people and form an essential part of their revenue. Grant and Cameron Safaris is a founder member of "Campfire Conservation Kenya" whose remit is to ensure that indigenous peoples reap the benefit of the vast herds that roam their lands. Only in this way can we hope that this unique area may be preserved for posterity.
After lunch in camp we have a quiet period before heading out on an evening game drive or walk.
Days 5, 6, and 7 exploring the Maasai Mara.
This itinerary give four full days in the Mara based upon Grant and Cameron's private tented camp which is truly in one of the best places in all of the Mara. Our camp is not only in one of the areas of the Mara least frequented by tourists, but it also has some of the best walking in the whole area right on our doorstep. We can walk from camp up the Ntiekntiek river valley, or the Ntiekntiek gorge from the upper plateau, or on the lava ridges which bisect the Mara plains and have a commanding view of the whole area. At the base of the volcanic ridge that runs east-west there are a number of springs. These provide essential watering holes for the enormous herds of wildebeest, plains zebra, and Thomson's gazelle that move through this area as part of their annual migration, as well as to the large resident populations of the more sedentary species. All year round large herds of impala, topi, gazelle, eland, giraffe - to mention just a few - are to be found within easy walking distance of our camp due to the fact that we have such a variety of different habitats and vegetation right on our doorstep. Just a few minutes drive west takes us to the Olare Orok river valley which offers further variety in walking terrain. This is almost unique in all of the Mara as most areas are much more seasonal than ours and hardly any combine both good walking and vehicle game viewing within minutes of the camp all year round.
On game drives from camp we can drive to all points of the compass as we are not up against any river that is impossible to cross. To the west beyond the Olare Orok valley there are the Musiara plains. During July to September these usually host very large herds of zebra and wildebeest, with their predators hyena, lion and leopard. When the grass is short these plains are also covered with many thousands of gazelle which are perfect prey for cheetah.
South-West of camp within easy driving distance is the Mara River. This is the largest of the rivers that bisects the Mara Plains, and is the scene of some of the most dramatic river crossings of herds of wildebeest and zebra to be seen anywhere.

Day 8 fly from Maasai Mara - Nairobi
We have a short morning game drive, followed by a last breakfast in camp before flying out of the Mara to Nairobi.
9 Night Classic Kenya Safari

$3,995 per person in twin room
private luxury tented camps in Samburu and Maasai Mara
private lodge on the Laikipia Plateau
This itinerary is designed primarily for those who want to see a cross-section of game, scenery and people giving a general overview of the best Africa has to offer. We use our own small private luxury camps, a home-stay on 4000-acre farm in Rongai, with one night in a lodge en route.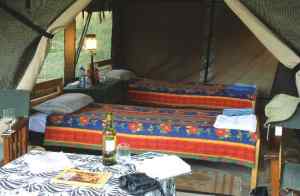 Days 1, 2 and 3 – Samburu
You will be collected from your hotel in the morning and we travel north via the lush farms of Kikuyu-land and the cultivated slopes of Mt Kenya. After a delicious lunch with friends on the slopes of Mt. Kenya we descend into the dry bush landscape, the border of Kenya's vast Northern Frontier District. Here, amongst dramatic mountain ranges, lie three of Kenya's most beautiful parks, the Samburu/Buffalo Springs Reserves and Shaba National Reserve. They are home to big game like the elephant, lion and leopard, as well as fascinating species endemic to this semi-arid area: Grevy's zebra, Beisa oryx, gerenuk and the reticulated giraffe.
The camp crew will already have set up our camp, with the kettle on the boil, ice in the bucket, and hot water for showers. The tents are spacious and cool, with extra long wooden frame beds with duvet quilts (or sheets and blankets if you prefer). Behind each tent is an adjoining private toilet and shower. After washing off the dust from our journey we can relax around the campfire before dinner, and enjoy a sundowner. Our campsite is on the Ewaso Ngiro River, a perennial river that rises in the Aberdare range and flows majestically across the Laikipia plateau before disappearing 200km away in the Lorian swamp. The craggy buttress of Mount Ololokwe makes a striking backdrop for our wildlife photography.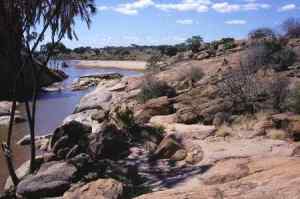 We have morning and evening game drives on the following two days. You will be given the opportunity to walk where possible. In Shaba we usually talk a walk along the Ewaso Ngiro with game rangers from the Reserve. All walks are optional: you can choose to take a game-drive instead if you wish.
The Samburu area is also the home of the nomadic Samburu tribe, who herd their flocks in search of pasture on the borders of the park. These colourful people are related to the Maasai and like the Maasai they continue to pursue their traditional life-style. For those who are interested we will try to visit them in their traditional surroundings, sometimes taking a walk from the camp to one of the local villages.
Day 4: Laikipia.
We leave camp early for a full game drive and bush breakfast on our way out of the Samburu Reserve. We drive to our overnight stop at one of the small private lodges on the Northern Laikipia, either Sabuk, Ol Malo or Ol Pinguan. Please see "Laikipia Small Private Lodges" for details.
We will have the afternoon at leisure, with one of more optional activities such as a walk with camels and Samburu tribesmen, or a visit to a Samburu village, or some other local point of interest. Which of these we will do depends on where we are staying, and what you would like to do.

Day 5: Lake Nakuru National Park.
After breakfast we head to Thompson's Falls, after which we drop down over the eastern wall of the Great Rift Valley to Lake Nakuru national park. This is a World Heritage area with spectacular bird life and a wide diversity of animals that in recent years has been secured into a rhino refuge. After a bush lunch and afternoon in the park we drive a short distance to Gogar Farm. We stay in Hamish Grant's own farmhouse, a picturesque cluster of buildings typical of the early settlers and built by his grandfather on the site of his first camp almost a century ago.


Day 6:Lake Bogoria National Reserve.The following morning we head north to Lake Bogoria, stopping mid morning for a picnic breakfast. Nestled in under the eastern wall of the Rift, it is one the most attractive of all the Rift Valley lakes, particularly famous for geothermal geysers and spectacular concentrations of flamingo. We return to the farm for a late lunch and afternoon on the farm. You may relax, enjoy a game of croquet, ride on horseback or come for a walk to see whatever farming activities might be of interest.

Days 7, 8, and 9: Maasai Mara Game Reserve.
After an early breakfast at Rongai we head northwest out of the Rift Valley and over the Mau escarpment towards the Maasai Mara. We pass through Kericho, one of the world's primary tea growing districts, where we may stop to watch the tea pluckers and take photographs of this pristine crop.
Alternatively, as an optional extra, you may choose to fly direct from the airstrip on the farm into the Mara.
We enter the Mara from the north and reach our private camp, on the banks of the Ntiekntiek River, in time for a late lunch. The camp is situated within the Koyaki Group Ranch which belongs to the Maasai. Both our camping and viewing fees are paid to the landowners as part of an initiative called "Campfire Conservation" designed to ensure that the Maasai get to see the benefit of tourism on their land. This not only allows us close contact with one of the most romantic and warlike tribes of East Africa, but easy access to Kenya's greatest wildlife reserve. The rolling grasslands of the Mara are part of the same ecosystem as Tanzania's Serengeti. It is here that the huge herds of wildebeest and zebra come as part of their annual migration in search of greener pastures. There is excellent viewing throughout the year, with plains game like wildebeest, zebra, hartebeest, topi, attended by their predators - lion, cheetah, hyena, jackal and, very rarely, wild dog. In the cool of the evening we relax around our campfire under a canopy of stars, listening to the mysterious sounds of the African night: the distant roar of the lion and the doleful whooping "laugh "of the hyena.
Another possibility is to take to our feet, providing both some exercise and a completely different and intrinsically African perspective. This is a chance to observe the little things often missed – plants, insects, smaller animals and tracks. This is a wonderful opportunity to experience the wild and provides a welcome break from the limitations of a vehicle. Game drives are always available if you prefer.
We may also do one or two night game-drives to glimpse another world of nocturnal creatures; smaller cats, mongooses, bat eared foxes, honey badgers, and marsupial-like springhares.

Day 10: Nairobi
We rise early and have a morning game drive before returning to breakfast. We say our goodbyes at the Governor's camp airstrip before your one-hour flight to Nairobi, which is included in the safari price. On arrival at Wilson airport you will be met and transferred to your hotel.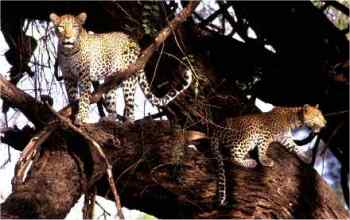 6 Night Migration Safari
US $2895 per person in twin room.
Lake Nakuru and Bogoria
Masai Mara
.If you have limited time in Africa, we recommend a safari that combines the Rift Valley and the Maasai Mara Reserve, two of Africa's most famous spectacles. The soda lakes of Nakuru and Bogoria offer exceptional wildlife viewing, while the Maasai Mara is part of the Serengeti-Mara, the last untouched plains ecosystem in Africa.

Day 1: Lake Nakuru National Park.
We start off early from your hotel in Nairobi, driving northwest towards the Rift Valley. We climb to over 8000ft through cool, fertile farmland, traditionally home to the Kikuyu people. Our first view of "the Rift" is a magnificent vista from the eastern lip of the escarpment, with two imposing volcanos, Longonot and Suswa; rising from the plains spread thousands of feet below us. We descend to the valley floor, on the route used by early pioneers, past lakes Naivasha and Elementaita to Nakuru National Park.
Mid-morning we enter Nakuru Park, Kenya's first designated World Heritage Area. Nakuru is world renowned for the spectacular concentrations of pink flamingos that can gather here, as well as the remarkable variety of other bird-life. The park has been secured as a rhino reserve, with breeding populations of black and white rhino. We will also keep an eye out for leopard and lion, occasionally found along the dramatic cliffs that form the Rift Valley's western wall. There is also a sizeable population of the endangered reticulated giraffe and a large variety of plains game: zebra, buffalo and antelope of many types. We will have a bush lunch along the Makalia River, or under the cliffs.
Late afternoon we will leave the Park, driving west through Nakuru town to Gogar Farm at Rongai. It was here, in the early years of last century, that Hamish Grant's grandfather established a farm that has been in the family ever since. It now incorporates land that belonged to his friend Denys Finch-Hatton of "Out of Africa" fame. We stay in the original farmhouse, now Hamish's home, which consists of cottages, mostly thatched, around the lawns which surround a central dining house with a long, cool, typically colonial veranda.
We will have two nights in Rongai, giving everyone a glimpse of farm life in Kenya on one of the oldest family owned properties in East Africa. We may have time for a walk with the dogs before night falls.
Day 2: Lake Bogoria National Reserve.
Rising at dawn we travel north, dropping in altitude from 6200ft in Rongai, to Lake Bogoria at just over 3000ft. We pass through vast sisal estates down a little used and dramatic road, towards the eastern edge of the Rift Valley, where the lake nestles beneath a 2000ft high escarpment.
Dwarfed by this stunning backdrop, we stop for a leisurely picnic breakfast underneath magnificent sycamore fig trees on the lakeshore, often with very large numbers of flamingo in the foreground, and a magnificent vista along the lake behind them.
We will then make our way around the lake, taking in the diverse bird-life, magnificent views and perhaps a chance sighting of the greater kudu – a stunning striped antelope with spiral horns. We arrive at the natural hot springs around noon, where you can stretch your legs on the crust of the lakeshore as gaggles of flamingos preen and feed knee deep in the alkaline water, near geysers belching steam and spray.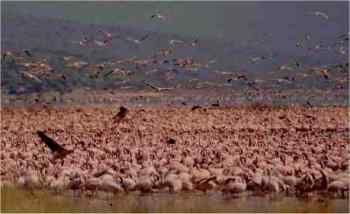 We head home, avoiding the heat of the day, for a late lunch and an afternoon at leisure on Gogar Farm. We can read, rest, bird-watch, walk, ride a horse, or a mountain bike around the picturesque 4000-acre farm, one of Kenya's leading mixed farms, with dairy, beef, crops and agro-forestry, as well as natural bush, forest and views over the Rift Valley.
Days 3, 4,5, 6: Maasai Mara Game Reserve.
After an early breakfast we journey up and out of the Rift Valley travelling south west along Mau escarpment to Kericho, one of the largest tea growing areas in the world. We will stop to watch the tea pluckers at work and learn a little about this pristine crop, Kenya's largest agricultural export earner. We continue to skirt along the Mau highlands, through picturesque small farms belonging to the Kipsigis people, through the Aitong range of hills and emerge overlooking the plains of the Maasai Mara.
Driving through game country on the edge of the reserve, we arrive at camp set under spreading greenheart trees, with spacious ensuite tents overlooking the Ntiekntiek River. We have a late lunch in camp and time to relax before setting out on an evening game-drive or walk.
With three full days at our disposal, we can roam the vast plains, unhurried in our search for hippos bathing in the Mara River, the imposing silhouette of a lone bull elephant, and the predators – lion, hyena, leopard, and cheetah – that shadow the herds of herbivores. We can sit with these animals observing and photographing them in their natural surroundings and gain an in-depth understanding of the niche that each fills in this complex tapestry of life
If you travel between June and October, you can also expect to witness one of the world's greatest wildlife spectacles – the "migration" – when hundreds of thousands of wildebeest, zebra and gazelle converge on the plains in their search for better grazing and waterholes. When concentrations of animals come up against the ominous Mara River, the ensuing chaos gives rise to a melee of action as animals crash through the crocodile infested waters. Occasionally predators lurking in the wings also take advantage of the confusion to snatch a straggler. A breathtaking experience!
Another possibility is to take to our feet, providing both some exercise and a completely different and intrinsically African perspective. This is a chance to observe the little things often missed – plants, insects, smaller animals and tracks. Although not compulsory, it is a wonderful opportunity to experience the wild and provides a welcome break from the limitations of a vehicle.
We may also do one or two night game-drives to glimpse another world of nocturnal creatures; smaller cats, mongooses, bat eared foxes, honey badgers, and marsupial-like springhares.The Mara remains home to the remarkable Maasai, a proud race of nomadic pastoralists, who have herded cattle here for many centuries. Their tradition of burning the grassland year after year has helped create the plains ecosystem that predominates today. This encourages new grass growth for their animals and keeps tsetse flies at bay. Unwittingly, they create the perfect environment for the huge herds of ungulates roaming the Mara plains today and keep off neighbouring tribes who would otherwise hunt the animals.
Both our viewing and camping fees go to the Maasai landowners as part of a groundbreaking initiative called "Campfire Conservation". This allows the fruits of tourism to filter through to the people whose wise game conservation has assured the survival of this last great plains ecosystem
There will be an opportunity to visit a Maasai village, or manyatta, meet them and get a feel for their lifestyle and values.
Day 7: Nairobi
We return to camp for breakfast after an early morning game drive and bid farewell to the camp crew. After an easy one-hour flight at 11am over the Rift Valley to Nairobi you will be transferred, either to your onward flight, or to your hotel.
10 Night Grant's Safari
$4,290 per person in twin room
Samburu, Laikipia
Lakes Nakuru and Bogoria
he Maasai Mara.
Day 1 – Samburu
You will be collected from your hotel in the morning and we travel north via the lush farms of Kikuyu-land and the cultivated slopes of Mt Kenya. After a delicious lunch with friends who live on the slopes of Mt. Kenya we descend into the dry bush landscape, the border of Kenya's vast Northern Frontier District.Our safari crew will meet us with a friendly smile and a cold drink before showing us around our own private camp overlooking the Ewaso Ngiro River. The tents are spacious and cool, with extra long wooden frame beds and duvet quilts (or sheets and blankets if you prefer). Behind each tent is an adjoining private toilet and shower with hot water available all day.

Days 2 and 3: Samburu, Buffalo Springs, Shaba National Reserves
We will spend the next two full days game viewing both from our specially outfitted 4 wheel drive vehicles and on foot in some of the most dramatic country in Kenya: Samburu, Buffalo Springs, and Shaba National Reserves. The open acacia savannah of Samburu provides an ideal habitat for all the big game of Africa: elephant, lion, cheetah and leopard are often seen. Also endemic to this area are several rare species such the Beisa oryx, gerenuk, reticulated giraffe, Somali ostrich and Grevy's zebra. The backdrop of the table top, Mount Ololokwe, and other imposing mountain ranges and the gentle rustle of the leaves of the magnificent doum palms along the water courses make this some of the most spectacular and unforgettable game-viewing country in Africa.

We will have the option of a walk in Shaba along the Ewaso Ngiro River. This shows you a completely different perspective, as well as giving you the chance to get some exercise. You can learn more about the smaller mammals, the reptiles, the plants and the geology to help you understand more about the fascinating interactions, which characterise these amazingly rich and diverse ecosystems

We will also get a chance to see a manyatta (village) of the Samburu native people who live around the reserve. We will have an opportunity to see their houses, learn about and interact with them. Even in the 21st century they maintain most of their traditional lifestyle; they dress in vivid scarlet and are adorned with numerous bracelets and necklaces. The morani, who often have long braided hair covered with ochre, are particularly striking. Let them show you about their culture and traditions and tell you in their own words what it means to be a Samburu warrior.

Day 4 Laikipia

We leave camp early to have a full game drive and bush breakfast on our way out of the Samburu Reserve. We drive to our overnight stop at one of the small private lodges on the Northern Laikipia, either Sabuk, Ol Malo or Ol Pinguan.

We will have the afternoon at leisure, with one of more optional activities such as a walk with camels and Samburu tribesmen, or a visit to a Samburu village, or some other local point of interest. Which of these we will do depends on where we are staying, and what you would like to do.

Day 5: Lake Nakuru National Park.

We drive through Nyahururu (formerly Thomson's Falls) stopping briefly shortly after to enjoy the breathtaking view across the Rift Valley. We descend through the fertile Sabukia Valley past Menengai Crater (Africa's second largest caldera after Ngorongoro) to Lake Nakuru on the floor of the Rift.

Lake Nakuru Park, Kenya's first designated World Heritage Area, is world renowned for the spectacular concentrations of pink flamingos that can gather here, as well as the remarkable variety of other wildlife. The park has been secured as a rhino reserve, with breeding populations of black and white rhino. We will also keep an eye out for leopard and lion, occasionally found along the dramatic cliffs that form the Rift Valley's western wall. There is also a sizeable population of the endangered reticulated giraffe and a large variety of plains game: zebra, buffalo and antelope of many types. We will have a bush lunch along the Makalia River, or under the cliffs.

Late afternoon we will leave the Park, driving west through Nakuru town to Gogar Farm, Rongai. It was here, in the early years of last century, that Hamish Grant's grandfather established a farm that has been in the family ever since. It now incorporates land that belonged to his friend Denys Finch-Hatton of "Out of Africa" fame. We stay in the original farmhouse, now Hamish's home, which consists of cottages, mostly thatched, around the lawns which surround a central dining house with a long, cool, typically colonial veranda.

We will have two nights in Rongai, giving everyone a glimpse of farm life in Kenya on one of the oldest family owned properties in East Africa. We may have time for a walk with the dogs before night falls.

Day 6: Lake Bogoria National Reserve.
Rising at dawn we travel north, dropping in altitude from 6200ft in Rongai, to Lake Bogoria at just over 3000ft. We pass through vast sisal estates down a little used and dramatic road, towards the eastern edge of the Rift Valley, where the lake nestles beneath a 2000ft high escarpment. Dwarfed by this stunning backdrop, we stop for a leisurely picnic breakfast underneath magnificent sycamore fig trees on the lakeshore, often with very large numbers of flamingo in the foreground, and a magnificent vista along the lake behind them.

We will then make our way around the lake, taking in the diverse bird-life, magnificent views and perhaps a chance sighting of the greater kudu – a stunning striped antelope with spiral horns. We arrive at the natural hot springs around noon, where you can stretch your legs on the crust of the lakeshore as gaggles of flamingos preen and feed knee deep in the alkaline water, near geysers belching steam and spray.

We head home, avoiding the heat of the day, for a late lunch and an afternoon at leisure on Gogar Farm. We can read, rest, bird-watch, walk, ride a horse, or a mountain bike around the picturesque 4000-acre farm, one of Kenya's leading mixed farms, with dairy, beef, crops and agro-forestry, as well as natural bush, forest and views over the Rift Valley.


Days 7, 8, 9 and 10: Maasai Mara Game Reserve.
After an early breakfast we journey up and out of the Rift Valley travelling south west along the Mau escarpment to Kericho, one of the largest tea growing areas in the world. We will stop to watch the tea pluckers at work and learn a little about this pristine crop, Kenya's largest agricultural export earner. We continue to skirt along the Mau highlands, through picturesque small farms belonging to the Kipsigis people, through the Aitong range of hills and emerge overlooking the plains of the Maasai Mara.

Driving through game country on the edge of the reserve, we arrive at camp set under spreading greenheart trees, with spacious ensuite tents overlooking the Ntiekntiek River. We have a late lunch in camp and time to relax before setting out on an evening game-drive or walk.

With three full days at our disposal, we can roam the vast plains, unhurried in our search for hippos bathing in the Mara River, the imposing silhouette of a lone bull elephant, and the predators – lion, hyena, leopard, and cheetah – that shadow the herds of herbivores. We can sit with these animals observing and photographing them in their natural surroundings and gain an in-depth understanding of the niche that each fills in this complex tapestry of life

If you travel between June and October you can also expect to witness one of the world's greatest wildlife spectacles – the "migration" – when hundreds of thousands of wildebeest, zebra and gazelle converge on the plains in their search for better grazing and waterholes. When concentrations of animals come up against the ominous Mara River, the ensuing chaos gives rise to a melee of action as animals crash through the crocodile infested waters. Occasionally predators lurking in the wings also take advantage of the confusion to snatch a straggler. A breathtaking experience!Another possibility is to take to our feet, providing both some exercise and a completely different and intrinsically African perspective. This is a chance to observe the little things often missed – plants, insects, smaller animals and tracks. Although not compulsory, it is a wonderful opportunity to experience the wild and provides a welcome break from the limitations of a vehicle.

We may also do one or two night game-drives to glimpse another world of nocturnal creatures; smaller cats, mongooses, bat eared foxes, honey badgers, and marsupial-like springhares.


Day 11: Nairobi
We return to camp for breakfast after an early morning game drive and bid farewell to the camp crew. After an easy one-hour flight at 11am over the Rift Valley to Nairobi you will be transferred, either to your onward flight, or to your hotel