Cape to Cairo is owned by Barbara Levedahl, who grew up in South Africa and is resident in Washington DC. Barbara conducted her own safaris in Botswana many years ago, and came to the U.S. in 1981 after meeting her husband, Kirk, who was a Naval Officer on duty with NATO in the delightful Cascais area outside Lisbon, Portugal.
Barbara obtained a B.A. in Architecture from Berkeley, and an M.Arch. from Columbia University in NY, specializing in the vernacular architecture of Africa and the Middle East. She has worked for South African Airways, conducted her own safaris in Botswana, Namibia, Zimbabwe and Malawi and has traveled extensively throughout Africa and the world with additional interests in India and Uzbekistan.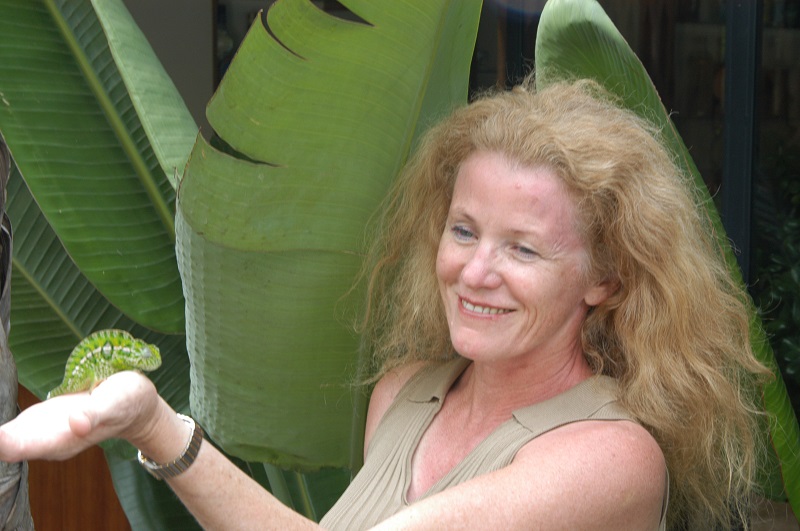 Barbara with Chameleon in Madagascar
We love remote desert areas with a special love of Namibia, the Kalahari, and the Magdadikgadi and N'xai pans of Botswana. Here in the U.S. we spend extensive time in the high Chihuahua Desert of Southwest Texas where we have a ranch bordering Big Bend National Park.
Our time there is spent hiking the Big Bend, and exploring the flora and fauna of this unique desert region.
Our dogs are a unique desert adopted breed called Azawakhs from the Sahel region of Africa, native to Mali, Niger and Burkina Faso.
As a small specialist company we assure you of personalized service, quality and value. We visit Africa frequently to experience the places to which we send our Clients. While we love safaris and wildlife and love discussing safaris with our clients, we are also very knowledgeable about the more cosmopolitan aspects of South Africa and can assist you with travel for business as well as pleasure.
We believe that our safari packages are the highest quality for value available. We do not do prepackaged tours but develop customized itineraries to suit your desires, working directly with specialty safari operators on the ground in Africa. This saves you the mark-up from several middle-men and the cost of publishing expensive brochures. We have low operating overheads, and we use our knowledge to ensure that you will stay with the best operators using the best facilities, and spend as much time as possible on safari and and not filling-time in transit hotels.
In addition to our safari expertise, we retain airline tickets from the world's top airline wholesalers. Because of this experience we know the cheapest and most convenient ways to get to and around Africa, and when you book with us you will get a package for international and regional airlines as well as safari bookings. Because of our business arrangements we make and control your airline reservations directly. Because of our airline  expertise we can organize your itinerary to take advantage of routings that will save you lost days in transfers and money for hotels at way-points.
We have an up to the minute picture of how your safari package and airline travel will fit together and can immediately respond to inevitable schedule changes.
When you book through us you will get the same prices as booking directly with individual operators in Africa, but we work out all those nettlesome details that make or break an itinerary such as transfers and hotels at waypoints in your travel.  We know from experience where problems are likely to arise, or where inevitable last minute schedule changes by airlines – yes, this is an important part of planning – could  entirely upend your travel arrangements.