Nestling amid the mainland dunes, the oasis of Kiwayu Safari Village lies to the north of a sheltered lagoon off the island of Kiwayu 30km north of Lamu.

There are few places in our world, which can boast such total seclusion, visited only by fishermen, the dhow that still come to collect sweet water and the occasional sports fisherman in search of the magnificent marlin or sail fish.

Kiwayu is surrounded by a Marine Reserve, protected by the Kenya Wildlife Services and tot he north and west, the adjacent Dodori and Boni Game Reserves. These wild areas are vital to the protection of the fauna and flora of eastern Kenya.The animals that inhabit these reserves are often migratory such as elephant and buffalo. The permanent residents are lion, cheetah, serval, caracal, lesser kudu and that rare hunting dog. (Apart from the monkeys, of course!).

The sea is home to many types of coral fish, dugongs, whale shark, basking whale, tuna, marlin, sail fish, wahoo, kingfish and many other sports fish and edible species. The turtle lay their eggs on our sandy beaches and together with Kenya Wildlife Services, we avidly protect their beat. Fishing trophies such as marlin and sailfish are released back into the sea.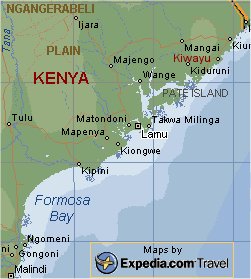 Snorkelling off the coral heads is at its best in November to December and February to March. You are taken to the reef by boat and snorkels and flippers are provided. The bay is perfect for windsurfing or skimming the waves in one of the lasers.

There is excellent creek fishing in the wide mangrove channels - rock cod, snapper, barracuda and many other species.

Enjoy the thrill of deep sea fishing accompanied by our expert fishermen. A typical catch might include tuna, kingfish, striped blue and black marlin and wahoo. Water-ski is the sheltered lagoon or golfing on the vast beaches, at low tide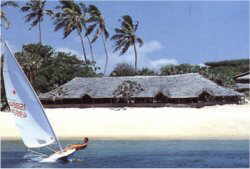 THE BAOBABS OF KITANGANI

Approximately 3 kilometers from Kiwayu Safari Village lies "The Baobabs of Kitangani". Nestling between the enormous ageless Baobabs, this is the perfect setting for a couple who want total privacy and comfort. There is a living room perched graciously under a baobab, leading to a dazzling bedroom with ensuite facilities. Staff and boatmen are at your service and there is over a kilometere of beach exclusively yours.